History of Soul Music
This page looks at the vocabulary of Soul Music through its history, people and songs. For other genres see
Popular Music Genres
.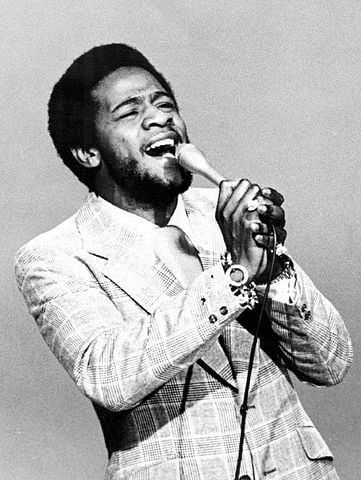 Soul music is a genre of African American popular music that led to many later genres, from funk and dance music to hip hop and contemporary R&B. It developed in the USA in the late 1950s from African American church music called "gospel music". After slavery ended in 1865, African Americans weren't welcome in the churches of white Americans, so they built their own churches and sang Christian songs with African-American vocal styles and rhythms. They sang joyful, up-tempo gospel songs while clapping and moving to the beat, and they sang slower gospel songs that expressed deep feelings like yearning for God's love. These different styles led to the two main styles of soul music.
Early Soul Music
The first soul songs were created when gospel songs were changed into secular songs by rewriting the lyrics. Joyful, up-tempo gospel songs became up-tempo soul songs, while slower gospel songs became romantic love songs. An example of the up-tempo style is R&B artist Ray Charles' 1954 song I've Got a Woman (Way Across Town), a secular version of the old gospel song I've Got a Savior (Way Across Jordan). Another example is Ray's first crossover hit What'd I Say in which he uses a gospel-music call and response to exchange sexy "oohs" and "aahs" with the Raelettes, his female backing singers. An example of the slower style is former gospel singer James Brown's 1956 song Please, Please, Please in which he changed a gospel song about yearning for God's love into a song about yearning for a girl's love.
Another gospel singer who changed gospel songs into secular songs was Sam Cooke. Sam had joined the gospel group Soul Stirrers as a teenager, but he was forced to leave the group in 1956 after recording the song Lovable, a secular version of the group's gospel song Wonderful. His beautiful yet powerful voice can be heard on his first 1957 crossover hit You Send Me. The song was so popular that it replaced Elvis Presley's Jailhouse Rock at the top of the pop-music charts. It was the first of nearly thirty crossover hits he recorded before writing his last and greatest song A Change is Gonna Come in 1964. The song expressed his yearning for an end to racism, but before it was released Sam was murdered in Los Angeles. Even though his life was cut short, his success opened the way for many other African American soul singers.
Northern Soul: Detroit and Chicago
The most popular style of soul music in the early-60s was Motown's pop soul. In 1959, businessman Berry Gordy started Motown Records in the northern city of Detroit, Michigan. His songwriters and artists created the "Motown sound" and produced dozens of pop-soul hits that young Americans loved. Motown had nearly eighty top-ten crossover hits from 1960 to 1969, and Motown's house band the Funk Brothers played on nearly all of them. They were skilled jazz musicians who could also make great pop music. They made the rhythms on Motown songs easy for white listeners to hear and dance to by playing tambourine and rhythm guitar on the second and fourth beats of each bar. They also had female singers like Diana Ross and The Supremes use girlie pop-music voices instead of their natural bluesy voices, as blues great Etta James had done on her classic soul song I'd Rather Go Blind.
Some of Motown's best singles include You've Really Got a Hold on Me and The Tracks of My Tears by The Miracles, Uptight (Everything's Alright) by Stevie Wonder and I Heard It Through the Grapevine by Marvin Gaye, whose 1971 album What's Goin' On is now regarded as one of the greatest albums in the history of popular music. Motown's biggest hit was I'll Be There by The Jackson 5, featuring eleven-year-old Michael Jackson on lead vocals. With his amazing talent, young Michael could sing in any style including classic soul, as in the song Who's Loving You.
A very different style of soul developed in Chicago, Illinois. Curtis Mayfield and his group The Impressions had been recording for Vee-Jay Records since 1956, but in the early-60s Curtis became involved in the civil rights movement. He began writing powerful songs about the problems African Americans were facing, such as poverty, racism and injustice. These songs included Keep on Pushing, We're a Winner and his biggest hit People Get Ready, now regarded as one of greatest songs ever written. In 1970 Curtis began his own record label, Curtom Records, and released a series of classic soul albums including his soundtrack album for the film Superfly.
Southern Soul: Memphis
The two main styles of soul music that developed in the South were a powerful, dynamic style called "deep soul" and a smooth, beautifully-produced style called "Memphis soul". Both styles developed in Memphis, Tennessee, with Stax Records producing deep soul and Hi Records producing Memphis soul. Stax produced records with driving R&B rhythms played by their mixed-race house band Booker T. & the M.G.'s and funky brass riffs played by their horn section The Mar-Keys. As well as recording their own hits like the classic R&B instrumental Green Onions, the house band played on dozens of deep-soul hits like Wilson Pickett's In the Midnight Hour and Sam and Dave's Soul Man and Hold On, I'm Comin'.
Booker T. & the M.G.'s also played on the records of Otis Redding, Stax's biggest star. Otis had a strong voice that was perfect for up-tempo soul, but he could also use a softer voice in romantic soul ballads. His dynamic performances on the Stax European tour and at the Monterey Pop Festival in 1967 made him a huge star worldwide with hits like I've Been Loving You Too Long and Respect. His greatest song was his last recording (Sittin' On) The Dock of the Bay. Like Sam Cooke three years earlier, Otis never saw the release of his greatest song. He died in a plane crash in December 1967, just three weeks before its release. His death shocked the world, but Stax survived and artists like Isaac Hayes and The Staple Sisters continued to release classic soul records.
The Memphis soul produced at Hi Records was some of the most beautiful soul music ever made. House band the Hi Rhythm Section provided a solid beat and a funky feel to which house producer Willie Mitchell added strings, horns and backing singers to create a rich soul sound. Hi Record's biggest star Al Green had many crossover hits in the early 70s including Let's Stay Together and Call Me. He also recorded the gospel-soul classics Take Me To The River and Love and Happiness.
Other soul artists from the South include Aretha Franklin, who brought female gospel styles to soul music in the mid-60s, and Percy Sledge, whose 1966 single When a Man Loves a Woman became one of soul's biggest-selling records. Both these artists, as well as many others, recorded some of their best music with a group of soulful white session musicians called the Swampers at FAME Studios in Muscle Shoals, Alabama.
Soul Music's Influence
Soul music of the 60s and 70s led to many other genres, including funk and hip hop. Funk music began when singers like James Brown began using soul's rhythmic grooves to make dance music, and hip hop began when DJs started rapping over these rhythmic grooves. But soul music itself didn't die out. British singers like George Michael and Sade had some of the biggest soul hits of all time in the 80s, as did Michael Jackson and Prince with their exciting new styles of pop soul and funk. But by this time both soul and funk were being marketed under the new term "R&B".
In the late 80s singers like Luther Vandross, Whitney Houston, Mariah Carey and Mary J. Blige were producing a style of smooth, commercial soul called contemporary R&B. But many younger artists preferred the raw sounds of 60s and 70s soul and funk. They also loved the urban beats of hip hop, and by mixing these elements they created a new style in the 90s called neo soul. Best-selling neo-soul albums include Me'Shell NdegéOcello's Plantation Lullabies, Maxwell's Urban Hang Suite, D'Angelo's Brown Sugar, and Lauryn Hill's 1998 masterpiece The Miseducation of Lauryn Hill.
New Styles of the 21st Century
Neo soul and the smoother sounds of contemporary R&B continued into the 21st century, but they were soon joined by two new styles; "retro soul" and "alternative R&B". Retro soul became popular after British jazz singer Amy Winehouse recreated the sounds of 60s soul on her Grammy-winning 2006 album Back to Black. Her success led to the rise of other retro-soul singers like Sharon Jones, Charles Bradley, Leon Bridges and Michael Kiwanuka.
Alternative R&B, on the other hand, began around 2010 when young artists like Abel Tesfaye (a.k.a. The Weeknd) and Frank Ocean started using both electronic and acoustic instruments to create moody beats over which they sang haunting songs about depression, addiction, heartbreak and other difficult topics. Since then the label has been applied to many non-mainstream styles from the futuristic R&B of Kelela and Janelle Monáe to Sampha and Blood Orange's lyricism and Childish Gambino's retro-funk. At the same time more mainstream contemporary R&B artists such as Maxwell, SZA, Solange, Beyoncé and Miguel have also been keeping soul music's legacy alive and well.
Styles, artists and recommended albums
Gospel to Soul: Sam Cooke - Night Beat, Portrait of a Legend, Aretha Franklin - Lady Soul, Amazing Grace
R&B to Soul: Ray Charles - The Birth of Soul, James Brown - Live at the Apollo, Nina Simone - Sings the Blues
Memphis Soul: Otis Redding - Otis Blue, Isaac Hayes - Ultimate: Can You Dig It? Al Green - Let's Stay Together
Chicago Soul: The Impressions - Anthology 1961-1977, Curtis Mayfield - Super Fly, Donny Hathaway - Live
Motown: The Temptations - Psychedelic Soul, Marvin Gaye - What's Going On, Stevie Wonder - Innervisions
UK Pop Soul: David Bowie - Young Americans, George Michael - Faith, Sade - Diamond Life, Love Deluxe
US Pop R&B: Michael Jackson - Off The Wall, Thriller, Prince - 1999, Janet Jackson - Rhythm Nation
Neo Soul: D'Angelo - Voodoo, Lauryn Hill - The Miseducation of Lauryn Hill, Erykah Badu - Mama's Gun
Retro Soul: Amy Winehouse - Back to Black, Leon Bridges - Coming Home, Michael Kiwanuka - Love & Hate
Alternative R&B: The Weeknd - Trilogy, Frank Ocean - Channel Orange, Kelela - Take Me Apart, Blood Orange - Negro Swan
Contemporary R&B: Maxwell - Embrya, The-Dream - Love/Hate, Miguel - War & Leisure, Beyoncé - Lemonade, SZA - Ctrl
backing singer (also "backup singer" [Nth Am. English] and "backing vocalist") (noun): a singer who gives vocal support to a lead singer - Tessa was one of Joe Cocker's backing singers.
bar (noun): one of many small sections in a piece of music that contains a fixed number of beats - Each bar in the song has four beats.
call and response (noun): two musical phrases, one of which answers the other - The call and response is before the last chorus.
civil rights movement (noun): a demand for social justice by oppressed people - Martin Luther King led the civil rights movement in the 60s.
classic (adjective): very good and highly-regarded for a long time - Neil loves those classic American cars of the 50s.
contemporary R&B (noun): recent R&B that mixes soul, pop and hip hop sounds - Contemporary R&B is really popular these days.
crossover hit (noun): an R&B, soul or country song that's on the pop-music charts - We'll all be rich if we have a crossover hit.
dynamic (adjective): lively and having a lot of energy - Apple Corp is one of the world's most dynamic IT companies.
groove (noun): repetitive, rhythmic pattern played by a rhythm section - Hip-hop artists still use James Brown's grooves in their beats.
horn section (noun): a group of musicians playing brass instruments and saxophones - How many songs does the horn section play on?
house band (noun): a group of session musicians who work for a music company - House bands don't become famous, but singers do.
house producer (noun): one of a record company's full-time music producers - How many house producers does Sony Music have?
neo soul (noun): a style that mixes contemporary R&B and 60s or 70s soul - Angelina played some great neo soul tracks at our party.
pop soul (noun): a style of soul music with a pop-music sound - Mum's listening to pop soul again.
racism (noun): the dislike or hatred of a whole race of people - Racism has always existed in our country.
secular (adjective): not religious, or with no connection to religion - We sent our kids to a secular school, not a religious one.
session musician (noun): a musician who can be hired to play on a recording - Session musicians don't get much work these days.
soundtrack album (noun): an album containing music made for a film - Has the soundtrack album been released yet?
tambourine (noun): an instrument with metal discs that rattles when hit or shaken - Mick Jagger often plays tambourine when he sings.
the South (noun): the southeastern part of the USA - Racism has always been a bit worse in the South.
yearn (verb): to want something very much - His yearning for a better world is expressed in his songs.