5 Tips for Learning English
tips and ideas on the best ways to learn English faster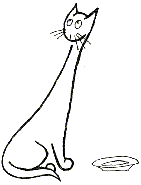 My cat speaks English
Sometimes my cat comes to me and tells me that she is hungry. Or that her leg hurts. How does my cat tell me these things? I don't speak pussycat language.
1. Don't be afraid of grammar
Grammar is for communication
Sometimes students get obsessed with grammar. This is especially true for students who grew up with strict grammar schooling. Remember that you only study grammar in order to communicate. Practise with a few exercises, then write an essay or have a conversation and try to use your new tools.
Isolate your weak points
Don't waste time on grammar exercises that you already understand just because they are easier for you. Concentrate on grammar that is difficult for you. If you are unsure of where your problems are, write a few short essays or paragraphs and ask a teacher to circle repeated errors. Then you can look up your problem and practise it.
Teach grammar points to a friend
Find a friend who studies at a lower level than you. Teaching will force you to remember the rules and to understand them properly. Try preparing a worksheet for your friend.
Useful links:
2. Improve your homework skills
Stay organized. Keep separate notebooks for exercises, writing, and vocabulary.
Use a pen that you love.
Study in short, regular periods.
Allow a short amount of time for review.
Study in a place where you feel happy and comfortable.
Don't allow distractions. Consider email, TV, and the telephone (unless in English) off limits while you are studying.
Have a drink and snack handy so that you don't have to get up.
If you study in pairs or groups, make an English-only rule.
Useful links:
Better Homework, Revision and Exams for ESL Students
3. Visit an English-speaking country
Take a language holiday.
Stay with a homestay family.
Learn from native English teachers.
Gain access to English culture.
Get a part-time job.
Volunteer.
Make native English friends.
Make friends with people from other countries.
Become more confident.
Hire a tutor.
Offer language lessons/swap in your own native tongue.
Useful links:
4. Prepare for a standardized test such as TOEIC or TOEFL
Qualify for a better job in your country (TOEIC).
Get accepted to an American college or university (TOEFL).
Use guided-study text books.
Study a broad range of whole language.
Track your improvement easily (test scores).
Learn idiomatic language.
Learn business English (TOEIC).
Improve your vocabulary quickly.
Take classes and get access to many listening exercises.
Challenge yourself to improve your score.
Learn and practise proper essay format (TWE/NEW TOEFL).
Become a grammar expert.
Improve your general knowledge.
Useful links:
5. Have fun with English
Have an English-only evening once a week. Cook in English (rewrite your recipe in English) or watch English movies.
Write an English love letter. (If your loved one doesn't understand English that's even better!)
Write English limericks. (These are excellent and simple for writing, pronunciation and rhythm practice.)
Rewrite fairytales, jokes or instructions in English.
Go online and find the lyrics to your favourite English songs and sing along to them (use a search engine).
Invent an English character for yourself (with job, family, etc). Write this person's biography.
Buy an English board game (like Monopoly, Scrabble or Word Up).
Play cards in English.
Start up or join an English reading or conversation club.
Talk to yourself in English while you clean or do the dishes.
Go around the house and try to name everything in English (furniture, clothes etc). Look up words you don't know.
See also: How to Learn English