ESL Worksheets - Thoughts from Brazil Worksheets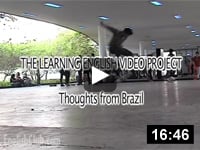 The EnglishClub video Thoughts from Brazil looks at modern trends in learning English, especially for children and teens. This instalment will be of particular interest to all those who long for a learning experience that is more interactive and communicative. Teens and young adults will find new ideas for combining personal interests such as music, gaming and social media with self-study.
As Daniel Emmerson talks to learners and teachers of English in Sao Paulo, Brazil, he discovers that many of them have found for themselves the principle of learning by doing and have readily adapted it to the Internet era.
The Student Worksheet above consists of eight activities to be done before, during and after the video. You can choose to do some or all of the activities. If you do all activities, you may wish to split them over two lessons. The Teacher's Notes give detailed guidance and answers.
The Optional Quiz is printable direct from the webpage and includes answers for the teacher (which will be stripped out when printed).
The Video can be viewed online at:
englishclub.com/esl-videos/thoughts-from-brazil/
or downloaded to your computer at:
englishclub.com/download/videos/
Thoughts from Brazil is an EnglishClub.com production directed by Daniel Emmerson.