ESL Worksheets - Tales from America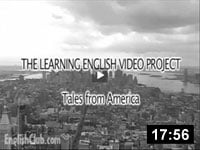 The EnglishClub video Tales from America is set in New York City. While the learners in Tales from America describe New York as "big", "unbelievable" and even "lonely" at times, Emmerson uses the words "busy", "vibrant" and "very multi-cultural".
The film profiles learners from diverse backgrounds and countries, including Argentina, Austria and South Korea. These visitors to New York are asked why English is important, what problems learners typically have, and how being in New York helps learners improve. Interviewees are then asked to share tips on how to learn English.
Argentinean engineer, Adrian Petrov, advises learners to get serious about their goals: "What I did in the past was to study English about two hours per week, and it wasn't enough."
The Student Worksheet above consists of six activities to be done before, during and after the video. You can choose to do some or all of the activities. If you do all activities, you may wish to split them over two lessons. The Teacher's Notes give detailed guidance and answers.
The Optional Quiz is printable direct from the webpage and includes answers for the teacher (which will be stripped out when printed).
The Video can be viewed online at:
englishclub.com/esl-videos/tales-from-america/
or downloaded to your computer at:
englishclub.com/download/videos/
Tales from America is an EnglishClub.com production directed by Daniel Emmerson.