Helen Baker

I am English and have lived in the South-West, the South-East, the North-West and the North-East of England. But for many years now I have flourished in non-English speaking France. Daily, I face the problems of language.
For some time, I ran English evening classes in the village (their idea not mine). It was a complete novelty. It upset their normal way of life, even changing mealtimes. My first students included a couple in their seventies because the husband would not let his wife out unsupervised in the evening.
My background has fluctuated between economics, finance and adult education. I have tried to learn French, Spanish, German, Russian and now Slovenian (I have forgotten my Latin). So I do understand the problems of language learning and maintenance.
Joke collecting started because of my mother. She was old and blind and, when I moved abroad I wrote to her each week. But, after a while, what do you write about? So I would add jokes to my letters to cheer her up. 1,800 jokes later, I still do.
My ambition is to win the local poetry contest in the next village (anonymously of course). My greatest achievement was to tell some of my jokes in French to an audience of boozy pensioners.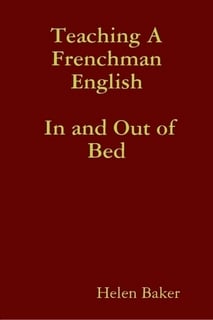 Teaching a Frenchman English
by Helen Baker
Helen's ESL Jokes © Helen Baker 2003