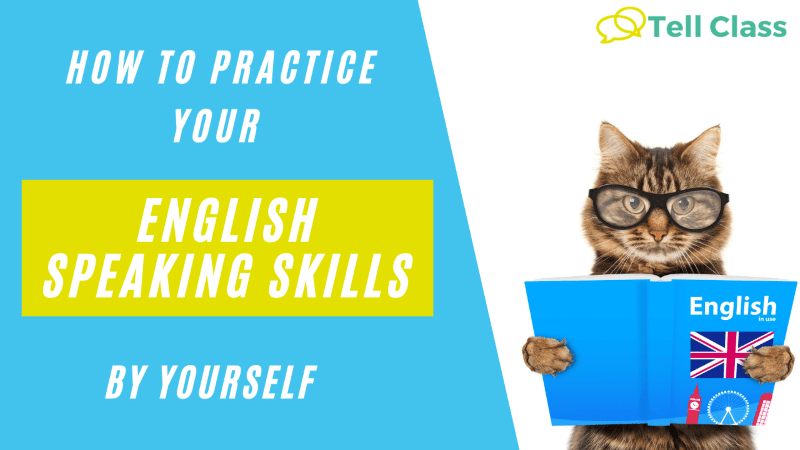 Do you want to improve your English speaking? Here are 10 English speaking practice exercises you can do by yourself to start improving your speaking skills today.
1. Practice speaking English alone
You don't need any other people to speak English with all the time. It is so important to be able to speak English alone. It will give you the opportunity to improve your skills without all the distractions of having someone else respond to or react to what you are saying.
You can practice speaking English alone with the following example dialogue:
Today I will go to work. First I will eat breakfast. Then, I will take a shower. I will then get dressed and get ready for work. Later today, I must buy some food.
Describe what you are doing right now. It doesn't matter if you are at home, at work at the grocery store, just speak softly to yourself as you are doing it. This way, you are learning and practising speaking English in context.
2. Shadowing English exercises
What is Shadowing? To shadow someone to learn a language means to observe them in their environment doing the things they normally do. In other words, when you shadow someone you are learning how to speak the language by observing how they speak it.
Shadowing is the best way to learn how to speak a language quickly. It is a great way to make sure you are using the correct pronunciation and the correct grammar. By using shadowing, you will be surprised how much you will pick up even if you are just watching and not talking yourself. It is a little like "muscle memory" except that you are memorizing the right words and the right pronunciations instead of the movements you need to perform a certain task.
Example of shadowing:
Watch an easy English TV series or a YouTube video. Listen to a sentence, stop the video, then try to repeat what they said exactly. You may need to repeat the same sentence a few times to get the same pronunciation.
3. Listen and record yourself
This is the best way to improve your listening skills. By listening to yourself speaking and then comparing the recording with what you heard, you will be able to hear and identify problems instantly. You should do this daily also. You can also record yourself speaking some sentences or dialogues you learned, or by reading English articles, you will be immersed in the language without even realizing it.
4. Learning English with songs
Memorizing your favourite English songs will help you improve your English by simply hearing the language. This is an excellent way to improve your listening skills also. The words and the music of the songs will become embedded in your mind. You should also listen to songs you don't like. Why? Simply because it will toughen up your ear and make it more sensitive to the language. Find the English lyrics (words to the song) and then start singing along with the music. Remember, learn the correct words, don't guess the words they are singing, just in case you misheard a few words, that's why I suggest first learning the song with the lyrics. I like classic rock-type music like "The Beach Boys", "Aerosmith", "Jon Bon Jovi".
5. English speaking practice with yourself in the mirror
Yes. You read that right. Don't worry, no one will judge you and think that you are crazy. Practicing your English speaking in the mirror helps you become more confident in speaking. If you do this often enough, you will soon find it easier to speak English naturally even when you are not practicing.
6. Use Flashcards
Yes, I know they are supposed to be used for cramming or studying for tests but that is NOT how I use them. When I use flashcards, I use them as an aide to improve my speaking and listening skills. I make a bunch of them up (one for each day of the week) and then I put a different English word or group of English words on each one. Then, I start practising speaking about what is on the flashcards.
7. Practice speaking with audio messages or voice notes
Most of the time, when we are talking with our friends and family using Whatsapp, Facebook, WeChat or any other social media account, we type our message. To help you practice your English speaking, try sending voice notes or audio messages. This will force you to speak more than just write. It will also force you to pay attention to your pronunciation and to use proper English. It will also improve your listening skills because now you will have to pay attention to what people are saying instead of just reading what they say to you.
Send your voice notes or audio messages to yourself and then respond to them. This way, you will be forced to speak, listen, read, type, and then speak again. All of this combined will improve your speaking skills tremendously. You can use your voice recorder app on your phone as well for this exercise.
8.Speaking with reading
A great English speaking practice is by reading English aloud. You can do this by messages from friends, reading social media posts, reading emails at work, as long as you are reading it out loud so that you can hear it. You can practise your English speaking a lot when it comes to reading.
9. Learn Popular English Phrases
The benefit of learning popular English phrases is because it helps you be more understandable and relatable to your friends and family who may not be as advanced in their English language skills as you. Plus, knowing these phrases will also help you when you travel because you will have something useful to say.
If you learn just 10 or 20 of the most common English phrases, it will make your conversations much more interesting and enjoyable. Don't just learn English phrases, but practice speaking them.
10. Surround yourself with English
The more English you are exposed to, the faster you will grow your English skills.
Make a list of all the places where you use your own language: TV, Computer, Phone.
Now, make a list of where you use English. See if you can increase the places where you surround yourself with English. One way you could do this is by changing your computer or phone settings into English, so every time you use your phone or computer, you will see English buttons. You could also change your T.V. channel to an English channel, or maybe you could talk with your friends and family members in English instead of your first language (if they understand English). Listen to English songs, watch English movies and series. Completely surrounding yourself with English every day. That's right, every day!
11. Practice speaking English with a native English speaker
Even though this article was about how to practising English yourself, practising English with a native speaker will help you achieve your English speaking goals a lot faster. Sometimes it's hard to find someone to practice speaking with, so I recommend you find a native English speaking tutor on
www.tellclass.com
.
Final advice:
There is a famous English idiom, "Practice Makes Perfect". It means, the more you practice, the more perfect you will become at that skill. So, keep practicing, and you will soon become fluent.